A complete list of all Alcatel phones price list, all Alcatel phones specs, all Alcatel phones photos and all Alcatel phones features in Nigeria, Kenya, Ghana, India and all countries.
Alcatel may not be a household name in the smartphone manufacturing industry, but since they started making smart devices, they've consistently maintained a steady flow of mid-range budget smartphones with specifications, design and features worth enough to compete against. The first range of smartphones were all named with the prefix Alcatel Onetouch, in line with the company's name. However since early 2016, new Alcatel devices have dropped the Onetouch prefix, and have been named according to what each phone represents. If you wish to catch up on all phones released by Alcatel since 2015, you're in the right place.
Where To Buy Alcatel Phones
Konga.com|N15,900|
Buy Now
---
June 2016 Updated List of All Alcatel Smartphones
We have your comfort at heart. To make Navigation easier for you, we've included a list of the smartphones we're discussing up here. Click on any of them to jump to the contents.
Alcatel OneTouch Pop Star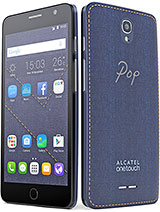 The Alcatel Onetouch Pop Star was unveiled at the 2015 IFA Conference alongside a host of other phones. The device boasts a range of swappable covers made of plastic, leather and a denim black cover.
---
"The Alcatel Onetouch pop star is clad in a polycarbonate frame with a 5-inch 720p display and a 1.3GHz MediaTek MT6580 SoC, 1GB RAM, 8GB storage, 8MP camera at the back, 5MP front camera, micro SD slot, dual-SIM functionality and a 2,000mAh battery. There's also an LTE-enabled variant that features the 64-bit MediaTek MT6735P and 16GB storage, with the rest of the innards staying the same."
---
Full Specifications of Alcatel OneTouch PopStar
Alcatel OneTouch Fierce XL
The Onetouch Fierce XL was Alcatel's first Windows-powered smartphone and was unveiled at the CES 2016 event. An Android-based variant of the phone is also available.
---
"As a budget phone,the alcatel OneTouch Fierce XL isn't a power house , it comes with a phablet size 5.5-inch HD (720×1280 pixels) display with a 1.1GHz quad-core Qualcomm Snapdragon processor along with 2GB of RAM under the hood. The device is stocked with just 16GB of storage,but that is expandable to 32GB (via micro SD card)."
---
Full Specifications of Alcatel OneTouch Fierce XL
Alcatel Pop 4S
Alcatel reveled three new 'Pop' devices at the 2016 MWC event, and the Alcatel Pop 4S is the biggest of them all.
---
"The Alcatel Pop 4s retains the same screen size as the Alcatel Pop 4+ ,but this time with 1080P resolutions. Aside the bump up in screen resolution,the Alcatel Pop 4s also comes with higher 13-megapixel rear camera, 5-megapixel front-facing facing camera, an octa-core Mediatek processor, with 2GB of RAM and 16GB of expandable internal storage."
---
Read Full Specifications of Alcatel Pop 4S
Alcatel Pop 4 Plus
The Alcatel Pop 4+/plus is more or less larger variant of the base Alcatel Pop 4, but with some difference in the Internals.
---
"The Alcatel Pop 4+/Plus comes with same Polycarbonate body, but with a large 5.5 inch IPS Display and with same 720P resolutions as the Alcatel Pop 4.The device is powered by a quad-core Snapdragon 210 processor, has 1.5GB of RAM, and 16GB of expandable internal storage up to 32GB."
---
Read Full Specifications of Alcatel Pop 4+
Alcatel Pop 4
The Alcatel Pop 4 is the smallest and less-specs-packed version of the newly unveiled smartphones in the Alcatel Pop series. The device has almost the same specs as the Alcatel Pop 4+, but with a smaller display.
---
"Specs wise, the Alcatel Pop 4 is much to be excited about; it features a 5-inch 720p display, a 1.1 GHz quad-core processor, 1GB of RAM, 8GB of storage expandable to 32GB via Micro SD."
---
Read Full Specifications of Alcatel Pop 4
Alcatel Idol 4
Among the numerous devices released at the MWC Barcelona event, the Alcatel Idol 4 series are the company's attempt at making smartphones with high-end specs and premium designs. The Alcatel Idol 4 has a bigger brother in the Alcatel Idol 4S.
---
"There is a 13-megapixel rear camera with touch focus and dual-LED flash, along with an 8-megapixel with real-time face beautification and a front-facing flash. The Alcatel Idol 4 runs Android 6.0 Marshmallow out of the box and fueled by a 2610mAh battery with support for Quick Charge version 2.0."
---
Read Full Specifications of Alcatel Idol 4
Alcatel Idol 4S
The Alcatel Idol 4S is a larger version of the Idol 4, larger both in size and its inner specifications.
---
"As for the Specifications, the Alcatel Idol 4S is better equipped than the Idol 4, It features a 5.5-inch Quad HD AMOLED display ,powered by a Snapdragon 652 octa-core processor with a speed of 1.8GHz, 3GB of RAM, and 32GB of expandable Memory."
---
Read Full Specifications of Alcatel Idol 4S
Alcatel Xess
After the company changed its brand name from Alcatel OneTouch to simply Alcatel, and changed its logo, they decided to show fans and users that the change was real, unveiling a 17-inch Android-powered mini TV which they branded the Alcatel Xess. The device sports a wide 17-inch display with a rear kick stand and stylus input to deliver a satisfying experience to the users.
---
"Other specs include a dual 3-watt JBL speakers,10,000 mAh battery, a custom Android operating system called Phoenix OS based on Lollipop and a 5MP front facing camera"
---
Read Full Specifications of Alcatel Xess
Alcatel Flash Plus 2
The Alcatel Flash Plus 2 is the 2016 iteration of the Alcatel Flash Plus, and is one of Alcatel's smartphones with a classy design, awesome specs and an affordable price tag.
---
"Alcatel is offering the Flash Plus 2 in two different version – Alcatel Flash Plus 2 with 2 GB of RAM and 16 GB of built-in storage and the other with 3 GB of LPDDR3 RAM with 32 GB of internal storage. Both version comes with Micro SD slot for Memory expansion of up to 128GB."
---
Read Full Specifications of Alcatel Flash Plus 2
Alcatel X1
The Alcatel X1 was released at the beginning of June without much ado, and is available for sale in major online stores in India.
---
"The Alcatel X1, which is a mid-range device has a cool 5-inch HD AMOLED display with a resolution of 1280 x 720 pixel. The phone's display is protected with a layer of Dragontail glass on the front and a Gorilla Glass protection on the back."
---
Read Full Specifications of Alcatel X1
---
---
There you have it. All Alcatel Phones since the 2015 IFA Conference till now. If you didn't find your favorite device up there and you'd like us to include it, simply comment below. We'll be updating this list every month as more Alcatel devices are released this year, and we'll be releasing lists of other smartphone brands released in 2016 very soon.
Where To Buy Alcatel Phones
Konga.com|N15,900|
Buy Now
Which of these devices do you like the most? Which one do you hate the most? Or which one are you neutral about? Tell us in the comments box below. Let the conversation begin!