Featured
Health Remedy
ORANGE PEELS FOR HEALTH AND BEAUTY TREATMENTS
Orange Peels Are Rich In Fiber And Other Essential Nutrients That Protect Against Several Diseases
The orange peels are rich in fiber, vitamin C, folate, vitamin B6, calcium and other essential nutrients. The skin of the oranges contains a good amount of polyphenols that protect against several diseases. … And the essential oil present in the peel has anti-inflammatory properties that boost your immunity power
Peeled off waste from Orange has anti- bacterial and anti- microbial properties it can be used for many things on the skin and can lighten face.
Health Benefits
1. Lowers Blood Pressure
Orange rinds can be used to lower blood pressure. They have been a part of Chinese herbal medicines for thousands of years for this purpose.
2. Suppresses Depression and Anxiety
Orange oil can be used to naturally relieve anxiety and depression by taking a bath or rubbing just a bit on the temple and forehead area.
3. Improves Heart Health
Orange peel contains a compound called nobiletin, which has been found to lower a person's risk of inflammation and heart disease.
4. Lowers Bad Cholesterol
The nobiletin present in orange peel also exerts a positive influence on your health by lowering levels of LDL cholesterol (bad cholesterol) in the body.
6. Eases Respiratory Issues
Consuming orange peel results in your lungs being cleansed, since it helps to break down and expel any trapped phlegm.
7. Protects You From Cancer
Research shows that eating orange peel can protect you from a number of different cancers including breast cancer, skin cancer, and colorectal cancer.
8. Prevents Digestive Issues
The non-soluble polysaccharides found in orange peel help prevent constipation, heartburn, nausea, and excess acid forming from in the stomach.
9. Improves Oral Health
Rub an orange peel against the inside of your mouth and teeth to freshen up your breath, whiten your teeth, and even reduce their sensitivity.
10. Gets Rid of  Hangover
If you overdid it last night, you can ease today's struggle by mixing salt and orange peel in some boiling water for around 20 minutes. Once it cools, you should drink the whole concoction to help reduce the effects of your hangover.
Beauty Treatments & Applications
1. Natural Skin Bleaching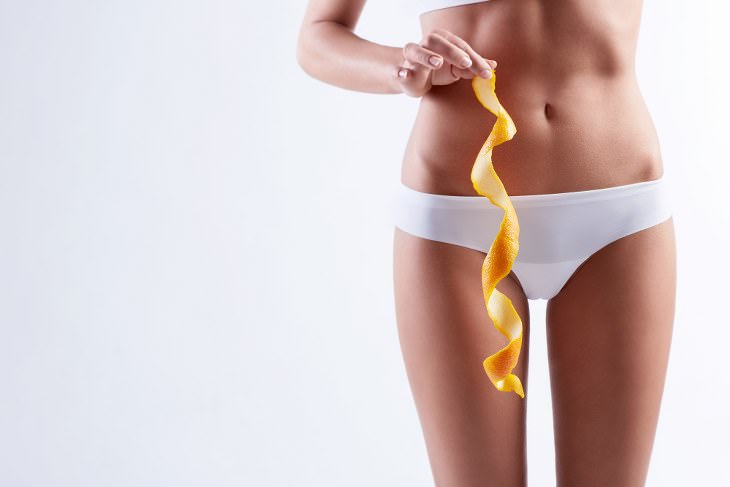 The Vitamin C that orange peels contain helps to lighten dark spots and blemishes on the skin. Simply rub the skin right onto your skin or mash it into a paste instead.
2. Body Scrub
Wrap up some orange peels in gauze pads and rub them on your skin while you are in the shower. The scrub will brighten your skin and give it a great smell.
3. Bath Oil
Extract the oil from the orange peels by grinding up the peels and fermenting them with vodka or alcohol for about 3 days. Strain the oil and add a few drops to your bath. Orange oil is known for its anti-inflammatory properties as well as its ability to improve skin tone and texture.
4. Bath Powder
You can also add orange peels to your bath in powder form instead. Simply dry out the orange peels completely and then grind them down to powder in the food processor, then sprinkle only a bit in your bath.
5. Glowing Skin Application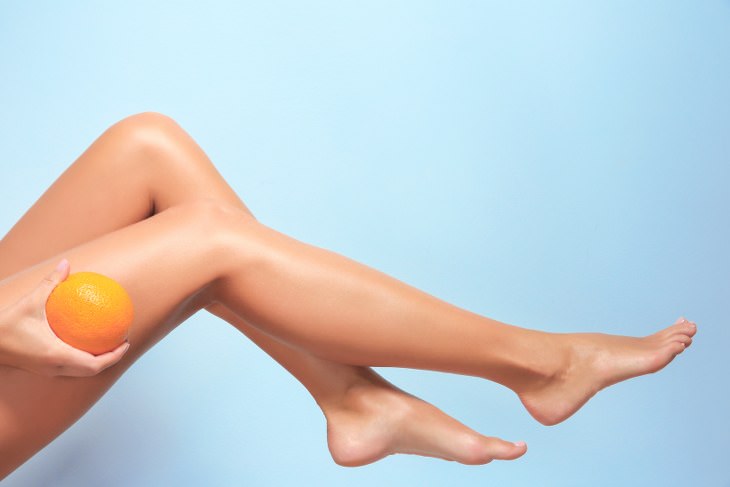 To get skin that is glowing and healthy-looking, simply crush some orange peel powder, dried neem leaves, pomegranate peel and lemon juice, and mix it all together. When the concoction has set, simply rub it into your skin, and sit back and admire the results.
6. Face Mask
You can make an orange face mask by mixing equal proportions of milk and orange powder together until you've got a thick paste. When it's ready, apply it to your face and wash it off after about half an hour. This mask will remove dead skin cells and excess oil from your face.
7. Hair Care
Add crushed orange peel to some water and leave it there overnight. From the following day, you'll be able to add this mixture to your hair to help rid yourself of dandruff, while cleaning and conditioning your hair at the same time.
8. Lip Balm
To make orange peel lip balm, first, you'll need to add some almond oil, and an equal amount of sugar and orange peel powder to a bowl. Mix it together and let it set before applying to your lips.
Cleaning Uses Of Orange Peel
1. Citrus Cleaner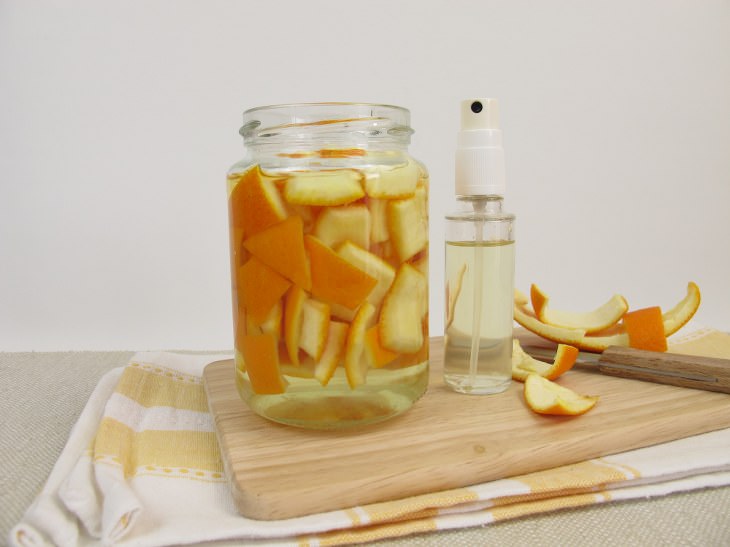 You can make your own citrus cleaner by infusing vinegar with orange peels and a bit of boiling water. Trust us, it works wonders!
2. Create a Natural Sponge
Orange peels can be used as a sponge too! Before the peel completely dries out, it contains a number of essential oils that are helpful in decreasing surfaces as well as pots and pans. If your sink or counter is full of grease, use an orange peel to scrub it down.
3. Deodorizer
It's no secret that the smell of a freshly peeled orange can clear out a room. Place the peels at the bottom of your garbage bin, or hang them from a string in your bathroom for a constant fresh scent.
4. Garbage Disposal Cleaner
A great way to clean out your garbage disposal is by putting orange peels down the disposal. Place them in the disposal and run it until clear, then run some water down after it. The citrus will get rid of any scents coming from the disposal.
5. Air Freshener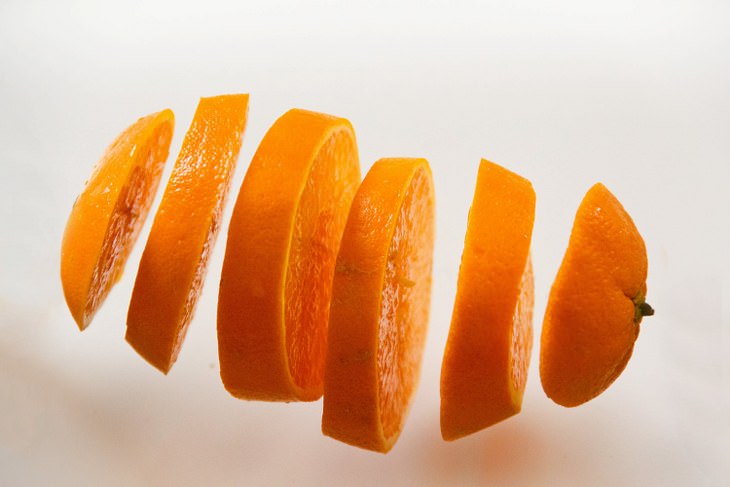 Boil orange peels in hot water to help freshen the air in the kitchen. You can also add a cinnamon stick or mint into the mix if you want to recreate the smell of air fresheners. If you have a fire going at home, place a paper bag filled with dried orange peels into the fire and your house will smell wonderful.
6. Refrigerator Deodorizer
Orange is also an excellent deodorizer for your refrigerator. Cut an orange in half and remove the fruit from the inside (eat it!). Then, fill up half the orange with salt and put it in a small bowl in your refrigerator for up to a week or two.
7. Shine Wood
You can use the white underside of an orange peel to breathe new life into dull-looking wooden furniture. Simply rub it onto any wooden surface, and give it a rinse with a damp cloth when you're done.
8. Freshen Up Smelly Shoes
Place some dry orange peels into small sachets, and then place them into the worst offenders on your shoe rack. The peel will absorb the odors naturally, making your life more pleasant and fragrant!
To use as a mosquito resistance;
after peeling your orange don't throw away the peels i mean the back, just gather them together and dry it for 3 to 4 days allow it to get dried very well,
How to use it-
Get charcoal with a little fire on it and place the dried orange peel on it, and the smokes coming out from it kills dose mosquitoes disturbing you.you can place on stove too.
Note:
please be careful and watchful when you use stove you can allow the smoke for 50 mins and stop it,open windows with net and allow good air come in.
---
For any important information please contact us Email GadgetsNg info@gadgetsng.com
[Button id="1"]
---